Welcome to designbymeg.com. My name is Meg and I handcrafted everything you see here and more. I have a creative side that demands expression that my nine-to-five office job just can't provide. I found my artistic niche in wire art design and sculpture.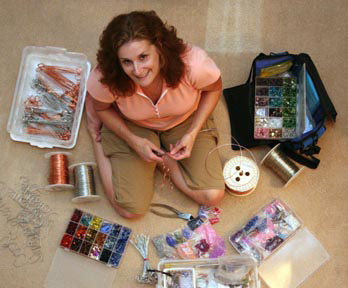 I am often asked how I got into this. I've had a passion for beads for as long as I can remember. I even dabbled in wire earring designs many years ago. About ten years ago, I stumbled across a box with my old supplies and started playing with some of the leftover wire and beads. I decided to try to make an angel. She was the first angel and I still have her! She looks considerably different than the angels you see here today. When the design started to look better, I made a few as gifts and soon people were telling me I should make more and sell them.
After years of tweaking my design and experimenting with a variety of wire, tools, and techniques, I now believe that she is done evolving, but one never knows when a creative moment may put her back on the drawing board for a makeover.
Although my angels are my pride and joy, I have several other items I make on a regular basis. My wall designs are among my favorites to work on, as I love "writing" in wire. Each one is individually designed with limitless possibilities, allowing me to express my creativity. With the increased popularity of scrapbooking, I was frequently asked to make small words, symbols, or other items, which lead to a line of scrapbook embellishments. My poetry books allow me to get my poems out there in a wire bound book form. I keep wondering what I'll make next.
When I'm feeling creative, I often pick up my needle-nose pliers, wire, and beads and create something completely new. Visit my assorted items section to see what new creations happened on such days. I've always enjoyed taking supplies with me when I am expecting to wait for a car repair or at the doctor's office. Folks always ask what I'm making and they usually end up going home with a little sample.
Thanks for stopping by Design by Meg. I'm always happy to hear from folks, so please visit my contact page to let me know how you found me, and what you think of what you found here.
*special note*
Some of the 'out of stock' items are still available, but I have switched to ETSY for internet direct sales. Please visit my Etsy store
www.etsy.com/shop/DesignByMeg
or contact me directly for other purchase options.
*Photo ~2007~ courtesy of: Michael Hacala Photography